Doors Repaired in Leicester
By Dave MoodyDave
Contact Information:
DM Locksmiths
Shepshed Road,
Hathern,
Loughborough
LE125LL
Freephone: 0800 1577433
Landline: 01509 843331
www.dm-locksmiths.co.uk/



Latest Reviews
Updated: 09/04/21
K.Pilgrim, Leicester: "We were having issues with the sun warping our rear doors, they would not lock when in the heat. We called Dave to sort things out. He adjusted the doors to work perfectly and we've had no issues since, even in the extreme heat. Great job."
R.Boycott, Leicester: "We used DM Locksmiths to replace our old locks with newer style anti snap locks as there had been a lot of break ins nearby. He explained the main features of the lock types and we feel a little safer knowing we have a decent lock installed."
G.Ocker, Leicester: "Dave installed high security locks to our shop with restricted keys so that we have better control over our security. Quick turnaround whenever we need new locks or keys ordering. Good same day door repair service when one of our doors came off the hinges."

Door Repairs Leicester - 0800 1577433
Dave Your Master Locksmith - 01509 843331
Local Door Repairs Firm

As the leading door repairs firm in the Leicester area you can rely on DM Locksmiths to resolve all your door issues.

As door repair specialists we cater for all types of repair for domestic and commercial doors including aluminium doors, upvc and composite doors, as well as traditional wooden door setups.

Burglary repair work is common in Leicester at the moment with the rise in car key thefts. Not only can we repair the damage to your doors and hardware but can also upgrade other locks to a higher specification or to adhere to insurance requirements.

For shop owners and local businesses in Leicester you can call on us to repair those faulty aluminium doors, closers and locking mechanisms that are in constant heavy use.

If you're unsure whether we can help please feel free to give us a call, we're always happy to help where we can or advise on the best solution if we cannot.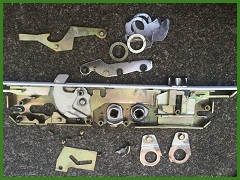 Lock Repairs & Upgrades
As well as providing an all inclusive door repairs service for commercial and domestic customers in Leicester I regularly upgrade locks and fittings after burglaries and to meet higher insurance standards.

Anti snap locks are one of the most common lock upgrades alongside burglary and door repair work which replace older style uPVC door locks vulnerable to destructive attacks.

I also stock a range of higher security door locks such as Multlock, Ultion and Eva for top security or for more vulnerable doors that need to be that little bit stronger than your door at home.

There are also restricted key profiles available upon request to prevent unauthorised key cloning. Only we will be able to create duplicate keys for locks on our system. If you live in Leicester and would like more information on how I can improve the door security at your home or business then feel free to give me a call on the number listed above.