Doors Repaired Oldham
By Paul Wadsworth
Contact Information:
Access Locks
Milnrow Road,
Shaw,
Oldham
OL28EQ
tel: 0161-682-0933
www.locksmith-in-oldham.co.uk



Latest Testimonials
Updated: 11/01/23
R.Michaels, Oldham: "We have used these guys to change our locks and repair our doors for nearly twenty years, always prompt and reliable when you need them. Your go to guys when it comes to door and lock issues in Oldham."
C.Seedhouse, Oldham: "After being stung by a national firm last year I was reluctant to use yellow pages again to find a door repairer in Oldham. Access Locks was recommended by a colleage at work and I called them. Paul arrived the same day and repaired the door straight away after diagnosing the problem on the phone. Price was spot on and a fraction of what I paid last time around. Trustworthy and will definitely use again if need be."
D.Spratt, Oldham: "Fast, effective and priced fairly. The firm to use when you're in trouble and need help quick."

Door Repairs Oldham - 0161-682-0933
A Local Door Repairs Firm
Based in Oldham - Not A Call Centre
Access Locks have been providing Oldham with a reliable door repairs service for well over twenty five years, repairing everything from wooden door locks to the new fangled uPVC door lock mechanisms.
We're a local family owned locksmith and door repairs firm in Oldham, trustworthy and reliale when you need us most, unlike the large national call centres that advertise in Oldham.
Being genuinely local our reputation as door repair experts is really important to us we will go above and beyond to help customers in our area that need door repairs, locks changed or in need of an emergency locksmith service.
If it has a lock, we can fix it, whether domestic or commercial you can give us a call anytime of day.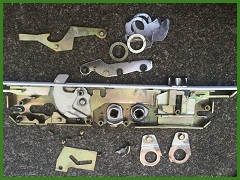 Lock Upgrades For uPVC Doors
One of the more popular upgrades for uPVC door security is the anti snap lock cylinder, designed to withstand prolonged destructive attacks by opportunist burglars.
As we're often repairing doors in the aftermath of break ins we stock a wide range of handles and higher security door locks to considerably improve the older existing lock setup.
The majority of uPVC door locks older than five years old are likely to fall short of modern security standards and we'd recommend having them checked as this type of burglary is on the rise in the Oldham areas.
If you're looking to have a lock survey, locks changed or upgraded at your home or business just give us a call for a free no obligation quotation. As experts in locks and door repairs we are always happy to advise on the best methods to improving the security of your premises.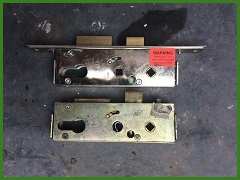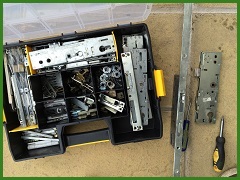 Contact Information
You can contact Access Locks 24 hours a day on the details listed on the left hand side of this page.