Door Repairs Southampton
By Eddie
Contact Info
Eddie
Chillerton,
Ingleside,
Netley Abbey,
Southampton
SO315GW
Mob: 07887407319
Local: 02380453539
http://www.lockitsecurity.co.uk



Testimonials
Updated: 11/01/23
A.Pattern, Netley Abbey: "Good qulaity work by a locksmith that clearly knows what he's doing. I'm sure the dor now works better than it did new."
C.Beardsmore, Southampton: "Tidy worker, replaced all out old cylinder locks for the new uprated ones. We feel safer knowing our locks are up to standard."
R.Cleary, Southampton: "After waiting an eternity for my husband to sort our broken french doors I finally called in an expert. Eddie had the doors unjammed and readjusted with new parts in no time at all. Wish I'd called in Lockit Security sooner."

Door Repairs in Southampton - 07887407319
By Your Local repairer Eddie - 02380453539
Double Glazed Door Locks

I'm quite aware that a lot of the double glazed door and window companies would prefer to sell you a complete new door and window than recommend a repair to the door lock. It takes years of experience working with uPVC doors to learn the necessary skills to repair these tricky locks. With many years experience in the door repairs industry I have acquired an extensive knowledge of uPVC door lock mechanisms and know how to unjam, repair and replace them when they break.

uPVC doors probably account for the majority of my work in Southampton so it goes without saying that I'm your go to guy when it comes to repairing uPVC and composite doors.

If your door is stiff to lock, crunching when lifting up on the handle, has a sagging handle or completely jammed locked then it is likely you either require hinge adjustments or a replacement gearbox mechanism in your lock.

Whether you want to book yourself an appointment or just want to pick my brains, I'm happy to help and advise on the number listed above.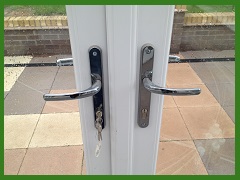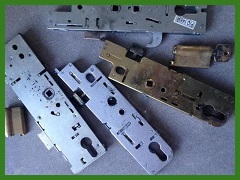 Commercial Doors Repairs in Southampton
I'm not limited to repairing double glazed door locks. I stock an extensive range of door locks and hardware for the repair and replacement of all domestic and commercial doors.

I have a large network of trade contacts and am able to source specialist or older lock parts to repair aluminium door locks, roller shutters and doors with special access requirements.

Having repaired doors in the Southampton area for numerous local businesses, schools and shops you can trust and rely upon my locksmith and door repair services 24/7.