Door Repairs Hinckley
By Adrian
Contact Info
Adrian
Mob: 07909 186487
Freephone: 0800 246 5615
Facebook Page



Testimonials
Updated: 11/01/23
B.Singh, Hinckley: "Reliable service by Adrain who arrived as per appointment and installed the latest anti snap locks throughout our home. It's nice to meet a trustworthy tradesman you can rely on."
M.Beaker, Hinckley: "With several broken doors we decided to call someone that knew what they were doing. Our rear French doors just needed adjusting and the rear kitchen door required a new lock mechanism. Adrian fixed it all that morning and left us with perfect working doors again."
T.Patterson, Hinckley: "Recommended by my aunt we decided to call Adrian at Lockaid to take a look at our jammed uPVC door. Within half an hour it was opened and fitted with a new gearbox to replace our worn 20 year old lock."

Door Repairs Hinckley - 07909 186487
By Door Expert Adrian - 0800 246 5615
uPVC Door Locks Repaired

uPVC doors suffer from various faults from jamming locks, poor adjustment, wear and tear which left long enough will eventually seize completely.

As a door repairs specialist Adrian carries a wide range of locks and hardware for the majority of domestic doors and can generally repair in a single visit with the exception of older obsolete parts or if a full replacement lock mechanism is required, which can usually be sourced & obtained within a couple of days.

Whatever your door issue, give Adrian a call for a free quotation, which can usually be given over the phone following a quick chat and a few questions about your door.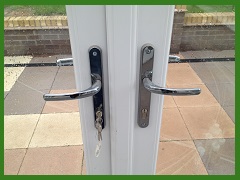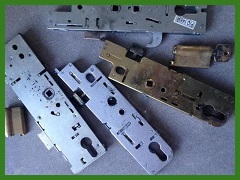 Anti snap locks for home and business
Uprated anti snap locks are now an important upgrade for older uPVC doors which are vulnerable to a widely published destructive attack that can see your door unlocked in under a minute.

We can supply and fit a range of products to protect against such attacks from high security handles to high security locks capable of withstanding a prolonged destructive attack.

Again if this is something you'd like to discuss with Adrian, just give him a call directly, he's always happy to help and advise on the best solution.